I had such good intentions of updating my blog after woolfest, im not sure what happened.. I think im just lazy! Well I doubt many of you are still checking up on my blog but its nice to keep a record for myself.
Anyway, I present you with my spinning antics and the various stages of Jeff's life (jeff being my fleese remember).
Here he is at the start of his spinning career
First off it was bathtime for this stinky creature! You dont want to know what the water looked like afterwards!
Then he was given the luxury of laying out in the sun to dry for a day, bits of straw are still tangled up in him but at least he doesnt have the poo smell anymore.
Molly decided to keep guard in case he got up and tried to sneak off into the night.
Jeff was then carded up and used as a test subject for my spinning technique. He was fairly easy to spin with but the yarn I produced with him is nothing I would be willing to share with the knitting community. So instead I bring you this natural Shetland I have spun up and im quite proud of it.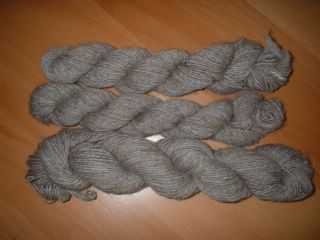 And an extreme close up although my camera cant cope too well with these.
I really have got the bug for spinning, its so relaxing. I still have more of this shetland to spin up then i need to decide what it will become in knitted form. How exciting! I am yet to venture into the world of plying too but that is an adventure for another day.