Today I turned 22! Since Woolfest nicely coincided with my birthday relatives were easily persuaded to simply send me off to woolfest with a wad of cash in my pocket. And boy was I pleased with that result! So here I present to you, my own personal haul (WARNING, picture overload).
First up is this gorgeous handpainted cobweb weight from
Jamieson and smith
along with a pattern leaflet for a lovely lace shetland shawl. This yarn was really popular and im glad a snapped it up when I saw it on the Friday.
Next up, Fibre!! I splurged quite a bit on fibre because I would really like to improve my skills with the spinning wheel. The natural stuff you see at the front is Shetland roving (again from
Jamieson and Smith
) I actually bought a kilo of the stuff but I just chose a nice handful for the photo. The pretty coloured stuff I picked up for felting, something ive not tried before but I bought some felting needles to have a play with. All the coloured stuff is from
Scottish Fibres
and was found in their bargain bin for £2.00.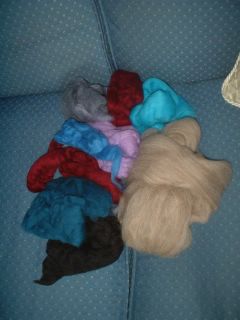 I adore this, its a recycled sweater needle Roll from
Pavi Yarns
.
And a shot of the interior.. Now I just need some gorgeous and expensive needles..
Well.. I did get these. Ebony dpns and they feel amazing! These were from
Scottish Fibres
. I picked up a rosewood circular at this stand too but that is already being used so no photo just yet.
Ok, next up! Lopi pencil roving from
Twist Fibre Craft Studio
which is perfect for felting. I also have a roll of it in a lovely rusty orange but that is already in use too.
More Fibre! but this is no ordinary fibre.. This, my friends, is Alpaca! As white as driven snow and as soft as kitten fluff.. Its the stuff dreams are made of. So naturally this will remain in its lumpy state until I can finally make my spinning wheel do the things I want it too. Then I shall be turned into gorgeous yarn.
They really arent fibbing in the leaflet!
Some hand carders to aid me in my spinning ventures, these are from
Wingham Wool
.
The carders were needed for this last puchase, a Derbyshire Gritstone fleece. This is raw fleece with straw and poo included but hell if your gona learn to spin you might as well go the whole hog right? One of the things I liked about the Alpaca fleece sellers was the fact that they had their names on the bags. My sheepy is nameless so he is now a Jeff. Soon I will be able to show you the various stages of Jeff's life from the day I brought him home as ' that stinky fleece' to the moment I first knit with the yarn I spin from him.
This one is not a Woolfest purchase, this is a gift from my wonderful sister (a non knitter). 4 Skeins of noro silk garden in a gorgeous colourway! Im still in shock.. Huge thanks are heading her way for this one!
And last but not least, I leave you with this.. HOW LUCKY AM I???!!!